AN ATTORNEY WHO CAN FIGHT FOR REAL – THE BLACKBELT LITIGATOR
Scott Lanin began training in the Martial Arts at the age of 18 in 1984 during his sophomore year at New York University (where he majored in finance and business management before law school, graduating in the Top 5% of his class). He has had diabetes since the age of 12 and has not let that stop him from intense training and full contact sparring. As a diabetic athlete, he understands what it means to overcome adversity. In 1986, he was the Athletic Director of Camp NYDA, a summer camp for diabetic children in upstate New York. He has taught martial arts to adults and children at several schools since 1987. In the 1990's he gave kickboxing seminars for the International Diabetic Athletes Association (later called Diabetes and Sports Exercise Association or DESA) at the University of British Columbia in Vancouver, Canada and at conferences in California and Masschusetts. This photo is from a 1991 article in the NYU Stern School of Business Alumni magazine.
Scott currently trains in the evenings and on Saturdays at Team USA Taekwon-do Fitness in Fort Lee, NJ under Master Alvin Bernard, 7th Dan (Coach, London 2012 Olympics), and occasionally teaches cardio Kickboxing and Taekwon-do classes for children and adults on Saturdays when Master Bernard is away at seminars or tournaments.  Scott also volunteers as a referee and umpire at international Taekwon-do tournaments. Scott believes that his success is based on these principles –
"My martial arts training has made me a better lawyer.  When I was in college at NYU at age 18, I was commuting to school from Queens.  I joined a fraternity to try to meet new people and make some friends.  I wanted to study karate but could not afford both the karate lessons and the frat dues.  I had to choose one. I became discouraged by all the drugs and alcohol at the frat and decided to use my frat dues to take karate lessons instead.  That was one of the best decisions I ever made.  The health benefits and higher energy levels are obvious but I also discovered that there are many similarities between litigation and martial arts. Both require hard work, discipline, persistence and patience, rigorous attention to detail, logic, and creative thinking. An experienced attorney, like a trained martial artist, has the ability to project a quiet inner calm and avoid confrontation but to fight aggressively when necessary. Both must be able to adapt and overcome weakness and obstacles. In both fields, there is a moral and ethical code. In both, success and strength come from preparation."
1984 – Karate / Taekwondo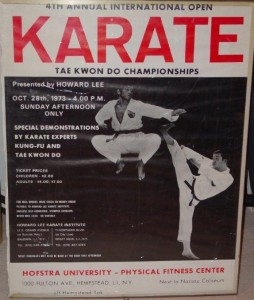 Scott trained under Grand Master Howard Lee, Korean Karate/Tae Kwon Do Institute,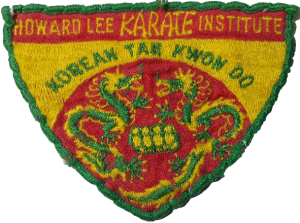 Bayside, New York. Master Lee had three schools in Queens and Long Island and was one of the first to sponsor tournaments since the late 1960's. His main school in Bayside Queens had a full size regulation boxing ring. Master Lee came to the United States in the 1960's after training in the South Korean Army. He is in the Tae Kwon Do Hall of Fame.  Scott was awarded a 1st Dan (Degree) Black Belt in 1987 and a 2d Dan (Degree) Black Belt in 1989 and worked as an Instructor teaching adults and children classes. This martial art was originally called Korean Karate and was similar to the Japanese Shotokan style. People called this TaeKwon-Do as that name became more widely accepted, but the style taught here was still a variation of karate that originated in Japan and was modified by Koreans in the 1960's.
Scott trained under Sensei Rocky Bavuso, The Karate Studio, Forest Hills, New York.  Kenpo Karate was once

referred to as  the Ed Parker system, after the famous instructor.  This style of karate taught economy of movement and took a scientific approach to anatomical motion for effective sparring and self-defense.

Scott trained under Master John Chung, John Chung Tae Kwon Do Institute, Mineola (Long Island). Master Chung is in the Black Belt Hall of Fame and was the World Champion in Tae Kwon Do Patterns competition. His uncle Jhoon Rhee is widely recognized as the Father of American Tae Kwon Do.  This style of Tae Kwon Do is based on the ITF style (International Taekwon-Do Federation) and patterns (also called forms or katas) but does not follow the ITF sine wave method of movement, instead using movement more similar to its karate origins, except for the emphasis on high kicking.
1994 – Thai Boxing, Kickboxing and Bruce Lee's Jeet Kune Do
Scott trained under three different instructors at the International Martial Arts Academy, Mineola (Long Island) NY. Mua

y Thai and Boxing Instructor Ray Longo coaches two UFC champions in mixed martial arts (MMA) and is certified in Jeet Kune Do concepts (Bruce Lee's martial art). Muay Thai Instructor Phil Nurse was the undefeated European and British welterwieght Muay Thai (Thai Boxing) champion.  Master Michael Ryan is a Kenpo Karate black belt and was the East Coast Kickboxing light heavyweight champion.  This school showed disdain for martial art color belts and focused solely on serious full contact sparring at the professional level.  The school was a giant gym located in the back of an auto body shop with a full size boxing ring and hanging bags.
Scott trained and assisted as a Kickboxing Instructor at Haritos Martial Arts, Cliffside NJ.  This is a TaeKwon-Do school that has Cardio Kickboxing fitness classes.
1999 to present – Kickboxing and ITF Taekwon-Do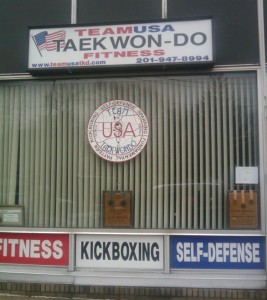 Since 1999, Scott has been training under Master Alvin Bernard, Team USA Tae Kwon Do Fitness,

who holds a 7th Dan (Degree) Black Belt in ITF (International Taekwon-Do Federation) taekwon-do and a 4th Dan (Degree) Black Belt in WTF Olympic style (World Tae Kwon Do Federation) Taekwon-Do. The school is affiliated with the Original Taekwon-do Federation of America. Master Bernard is the former ITF Taekwon-Do World Champion in both sparring and patterns (2003 – Australia), was the Coach of the Jamaican Taekwon-Do team in the 2012 World Olympics in London, was named as the TaeKwon-Do Times Hall Of Fame 2014 Coach of the Year, has been a center ring umpire on ESPN, and has been generally known to defy the laws of gravity and flight. In 2010, Scott returned to traditional martial arts after 16 years of Kickboxing. He currently holds a 4th Dan (Degree) Black Belt in

ITF Taekwon-do and is a certified international instructor.  He also holds a 2d Dan Black Belt in Karate. Scott is training to test for his 5th Dan Black Belt in 2022. His training regiment includes full contact sparring, patterns, self-defense, board breaking, weights, jump rope, and cardio kickboxing. He has been an Umpire and Center Ring Referee at Official ITF sanctioned international Taekwon-Do Tournaments.  Scott has created and produced the school video for TeamUSA Tae Kwon Do Fitness and helped write the script for Master Bernard's DVD called "THE EDGE Elite Footwork. The Secret To Faster Kicking And Better Sparring."  Scott has also performed the Stars Spangled Banner at the opening ceremonies for International Taekwon-do Federation Tournaments.
Sparring, Power Breaking, Training
1991 – NYU STERN SCHOOL OF BUSINESS
2020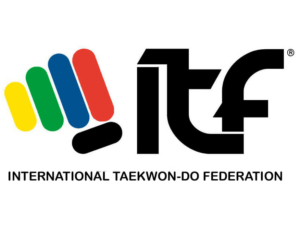 On December 11 through 13, 2020, Scott Lanin attended the first virtual International Instructor's Conference (IIC). It was held online during the Covid pandemic. Grandmasters, Masters, and Instructors from all over the world participated from nearly every continent and time zone in the first event of its kind. There were 1033 people in attendance globally on zoom. Participants were in 60 countries, including the U.S., Canada, Argentina, Chile, Spain, Italy, Puerto Rico, Dominican Republic, Poland, England, Ireland, Israel, China, Ukraine, and Russia.
2021
Scott renewed his International TaeKwon-Do Federation (ITF) teaching license. The ITF is currently headquartered in Spain and Poland and has schools and communities in every continent all over the world.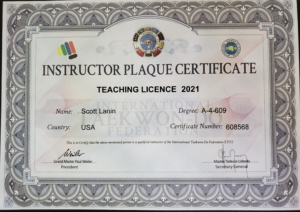 THE FIVE TENETS (PRINCIPLES) OF TAEKWON-DO
Courtesy – to be polite and show respect
Integrity – to be honest, sincere, and know right and wrong
Perseverance – the spirit to never give up on reaching your goals
Self-control – to be responsible and have discipline; to not lose your temper or fight from anger
Indomitable Spirit – to show courage in the face of overwhelming odds

---
Scott applies these concepts and his martial arts experience to help his clients confront and solve difficult legal problems.