EXPERIENCE
&

TRUST YOU CAN COUNT ON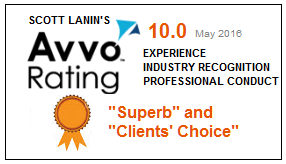 Experience Matters. Attorney Scott Lanin has 32 years' experience helping clients with commercial litigation and appeals, foreclosure defense and lender liability, mortgage loan modification, business operating and shareholder agreements and advice, and Chapter 7 and 13 bankruptcy. Scott understands all of these connected areas of law. Meet with Scott and review your options. Find your best solution. We offer personal attention, competitive rates, flexible payment options, quality work, exceptional professional service, and a strategy to fit your budget. We strive to develop long-term relationships and help clients meet their goals and get peace of mind. Scott has appeared in State, Federal, Bankruptcy, and Appellate Courts in New York State and throughout the U.S. He has been outside legal counsel for 25+ years to a large corporation with $300 million annual revenues. He has assisted many individuals and small business owners. Throughout his career, he has handled legal matters involving mortgages and loans in excess of a total of $500 million.
KNOWLEDGE
&

EXPERTISE PRACTICAL SOLUTIONS
Selected to NY Metro Super Lawyers 2018-21 (Top 5%) and received Martindale Hubbell's highest rating of AV Preeminent — Big firm experience, small firm value & the highest qualifications. Attorney Lanin was formerly associated with a prestigious Manhattan firm and the largest Long Island firm. Former counsel to banks. NYU Stern School of Business (began at age 16; graduated 1986, Top 5%, Finance and Management). St. John's University School of Law (1989; Law Review – Highest Honor). Pro bono extern mentor at 7 law schools (Brooklyn, St. John's, Cardozo, NY, Hofstra, Catholic, Touro) and several undergraduate colleges. CLE instructor in Litigation and Foreclosure. We are connected to a network of professionals and can adjust our team to fit any client's needs.
AN ATTORNEY WHO CAN FIGHT FOR REAL – THE BLACKBELT LITIGATOR
Scott Lanin is a certified martial arts instructor, with 37 years' experience in Taekwon-Do, Karate, Kickboxing and Muay Thai. He has a 4th Degree Black Belt in ITF Taekwon-Do and a 2d Degree Black Belt in Karate. Scott is an attorney who can fight for real – in and out of court. Litigation and martial arts share a common model for success. These are our core principles: avoid confrontation but fight fiercely when necessary; prepare, plan, and stay calm; negotiate from a position of strength, adapt and overcome adversity, think creatively; pay rigorous attention to details; and courtesy and integrity matter.
CALL NOW (212) 764-7250
FREE STRATEGY SESSION AND CUSTOMIZED RECOMMENDATION

Lanin Law P.C. is accepting new clients and scheduling confidential consultations remotely via Zoom or phone.
AN ATTORNEY WHO CAN FIGHT FOR REAL – THE BLACKBELT LITIGATOR
Scott represented me, on behalf of a close friend [as a creditor] in a bankruptcy proceeding. His advice was unfailingly excellent, his written work comprehensive and understandable and his court appearances lucid and well-presented.  Also, of great importance was his promptness, accountability, and sensitivity
I just wanted to . . . congratulate you on the outcome . This will probably result in a 100% recovery. Although the [other] bank aided their customer's fraudulent activities through negligence, I was doubtful that you would prevail against their attorneys to get such a large sum. I know this wasn't an easy case, but your perseverance and hard work certainly paid-off.
Thank you for the hard work and dedication you and your staff provided to me during my tenure at EAB. As a result of your efforts, I experienced many successful recoveries. Additionally, your expertise in bankruptcy earned the bank a landslide win in Florida, with a monumental overturn of the homestead exemption! Bravo, Scott!  I wholeheartedly will recommend your services!
One of the reasons I use Lanin and Associates [now Lanin Law P.C.] is the knowledge that Scott will personally be handling my cases . . . I know I get quality representation 100% of the time.
I have been very satisfied with the services you provide. The nature of the corporate issues at hand were somewhat more complicated than the ordinary personal bankrupcty. You made them easily understandable and backed up your comments with copies of sections of law for my own perusal. Moreover, the critical timing involved with our case was accommodated by you over the weekend . . .
We were especially pleased by the fast response times and practical advice. The Lanin firm understands the needs and budgets of small business.
Prior to your law firm's service, my business wasn't able to make ends meet … phone calls from creditors, inability to meet weekly payroll, But since using your services and advice – we can go on with life. No more debt problems. I've been reborn . . . Thanks again.
I would highly recommend your services to anybody who is in financial need and is scared to take any action.
Very professional in a commercial case.  Aggressive and sophisticated . . .
Was very prompt and courteous. I found him to be confident, very knowledgeable, and he provided me with every assurance throughout my case.
It was good to have you in my corner. I am grateful for your insight and support and advice. You are the best !!!
My wife and I had wandered from lawyer to lawyer trying to find help in our case, but when we found your office we looked no further: we felt assured and were treated like family.  We'll never forget your service.  Thanks.
Dear Scott:  Thank you for your time to determine a possible case . . .  you were concerned, considerate, kind and understanding. I was very impressed and I am pleased to know that we still have lawyers like you.  Thank you again.
Scott, thank you for being there from the beginning to the end. There were no hesitations when it came to assisting us with our needs. Your assertiveness and decision making helped us to overcome our obstacles. Give our thanks to your  secretary also.
Dear Scott, First I need to thank you as well as your team for the excellent, and frankly, better than I had expected professional services I have received in the short time I have known you . . . You really have overachieved in my opinion . . . You are really worth soooo much more than you charge.  Thank you again.
We were there for 25 years and at the brink of losing the home when we found this law firm and we were able to do the Chapter 13 and stay in our home . . . I want to thank this law firm so much and commend them.
Dear Mr. Lanin: Thank you for providing me with top rate professional assistance throughout the whole process.  Any questions or concerns I had you answered and/or addressed promptly.  Thank you so much!
Scott Lanin was very diligent in handling all aspects of my son's bankruptcy case. Scott's very professional in his dealing with his clients' needs.
I am very impressed with the professional service your firm provided for me and the exptertise with which you concluded favorably my legal issues.  I appreciate your concern and legal experience , especially Scott Lanin.
Handling the impending threat of foreclosure was unsettling. Having an attorney like Mr. Lanin helped demistify the Chapter 13 process. He definitely gave us the added support necessary to deal with a highly stressful situation, without making us feel stigmatized. I would recommend Mr. Lanin and his assembled legal team with the utmost confidence.
I am very pleased with the service you gave me. If I ever need a lawyer, or any of my friends, you will be recommended. The service you gave me was so excellent that I can't stop talking about it. I feel that my job was well done. You are an excellent lawyer. Thanks for your service.
Thank you for being there for me every step of the way. I don't believe any other lawyer would have taken the extra steps of retrieving my money from the Marshall and collection agencies. Thank you so much.
Scott Lanin was professional, efficient, up to date on the legal methods and procedures that involved my case.  I look forward to working with his firm and to utilize his services in the future, should the need arise!.
I want to thank you for the good work you have done on my behalf. Obviously, your [answer with counterclaims against the bank] was most effective. You have stumped them … I have a really good lawyer.
Thanks to Scott Lanin my life can move forward. Thank you.
Words cannot express the happiness and gratitude we feel as a result of you helping us through a very difficult situation. Thanks a million Scott.
Thank you Scott. Your legal advice and assistance was outstanding. It was a pleasure to meet you and have you as my attorney.
It's hard to maintain a client base but it's much harder to get new clients. As a new client, your professionalism and confidence won me over the first time we met. Thank you.
I was very pleased with the services rendered and would not hestitate to use your firm in the future. Mr. Lanin was very helpful and showed great professionalism at all times.
Very happy with the services.
You have provided me with excellent service.  The consultations were very helpful and informative.  Thank you for all your help with my case.
I chose your company because you were the only one who said we will try our best to help you save yoru home.  Thank you.  Came through with flying colors.  Keep up the good works.  Good luck in the near future.
Scott, It was nice meeting with you the other day. I am confident I made the right choice with regard to my legal matter.hank you for the job you did.
Dear Mr. Lanin:  I was so happy you were recommended to me . . .  You were professional, extremely knowledgeable and just fantastic to deal with. Thank you so much for your guidance and support during that terrible period in my life.
It's amazing how easy it was, the whole process.  I really did nothing.  You took care of it all. It was a pleasure dealing with your office and should I need any legal issue resolved I will definitely call you.  I have also recommended you to a number of my friends.   Thanks again.
First I need to thank you as well as your team for the excellent, and frankly, better than I had expected professional services I have received in the short time I have known you . . . You really have over achieved in my opinion. You are really worth soooo much more than you charge.  Thank you again.
Scott and Yersy,  Thank you for all of your support and professionalism.  You and your team were wonderful and I would easily refer any friend to you.  All the Best,
We were very satisfied for services that you provided to us and very happy.
Scott Lanin and his team are seasoned professionals who get the job done.  I couldn't have been more happy with the results of my case and my decision in selecting Scott and his team.
Until recently, I had never experienced the emotional journey of suing anyone, much less a member of my own family. The timing couldn't have been worse. I lost my partner of 25 years and, several months later, my 10 year old dog. Although I was at the lowest point of my life, I had no choice but to hire an attorney to help me fight for what was rightfully mine. Through a recommendation, I hired Scott Lanin, of Lanin Law P.C. I was treated with respect, was always in the loop and never felt condescended to – all things I hold dear. In the end, I, along with other family members who also inherited the property, won a hard fought disputed case, fair and square, through a court ordered sale of property, resulting in an unanticipated and surprisingly high auction price. I never expect to have this experience in my lifetime again, but if I do, Lanin Law is a no brainer!
SCHEDULING A CONSULT WITH SCOTT LANIN
*We offer a free no-risk no obligation phone or video consult for qualified callers. If your legal matter is complex or involves many documents, we may instead offer you a longer paid consult. Please contact us to learn more. All consults are by appointment only and are handled personally by attorney Scott Lanin who will review your legal rights and remedies, explain everything clearly, and try to recommend a strategy and solution that fits your budget. The services for a consult are limited and conclude when the consult concludes. In order to retain our firm, a written retainer agreement is required.