SKILL, INTEGRITY & EXPERIENCE
Lanin Law P.C. is a boutique law firm with offices at 505 Eighth Avenue (at 35th St) in midtown Manhattan, near Penn Station/Madison Square Garden, south of Times Square.  We handle financial, business and real estate based matters involving commercial litigation, bankruptcy, foreclosure, business law, and debtor-creditor law.   We concentrate in these practice areas because the laws and required skills are all related.  Our core knowledge and experience revolves around contract, real estate, and business law.   We believe that a firm that claims to specialize in everything really specializes in nothing.  By focusing our practice in these particular areas, we are able to achieve greater efficiencies and help our clients solve problems with a practical and economical approach.  We appear as counsel in cases in State, Federal and Bankruptcy Courts throughout New York State and have appeared in various courts throughout the country.  We have extensive legal experience and knowledge in the areas that concern our clients most.
Managing and founding attorney Scott Lanin is a 1986 graduate of the prestigious NYU Stern School of Business and a 1989 graduate of the St. John's University School of Law where he earned membership on the Law Review.
Lanin Law P.C. traces its roots back to a firm founded by Scott Lanin in 1999, after he gained valuable experience at some of the top New York law firms.  The firm has moved over the years from the Lincoln Building, One Grand Central Place, NY, NY (across from Grand Central Station), to 1065 Avenue of the Americas, NY, NY (across from Bryant Park), and now to 505 Eighth Avenue, NY, NY (one block from Penn Station), always maintaining a Midtown Manhattan presence.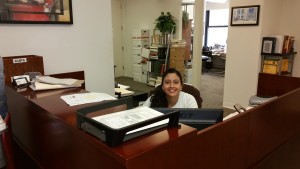 Attorney Scott Lanin handles every case in our office personally with support from our of counsel attorneys and legal assistants. Our of-counsel attorneys have included a Law School Professor/former Federal Judge's Law Clerk; a former Asst. District Attorney/experienced trial lawyer; and an international lawyer with a graduate law degree.  We work as of-counsel and co-counsel to other lawyers and law firms with varied specialties on an as needed basis – but we promise that we will never delegate your important case to another attorney, and certainly not to an inexperienced beginner. Other firms use this bait and switch tactic to increase their profitability. That never happens with Lanin Law P.C.
THE BEST OF BOTH WORLDS
We offer the best of both worlds: the experience of a larger firm with the value of a smaller one. Enjoy personal attention, reasonable rates, and the quicker turnaround of a small law firm without sacrificing excellence, quality, and integrity.
Our clients include individuals and a wide variety of businesses, including major corporations. We are often called upon by other attorneys to help them as co-counsel in complex matters.
Lanin Law P.C. has also formed strategic alliances with other highly qualified lawyers and professionals. We have an extensive network of colleagues that we consult with frequently. Some share similar practice areas. Others specialize in different areas, including matrimonial and family law, corporate transactions, accounting, tax law, trusts and estates, and personal injury law. If you need an attorney or have a legal question, we encourage you to call us and inquire whether we can help you. If you need legal assistance on a matter that we do not handle, we will do our best to refer you to a trusted colleague.
OUR CORE EXPERTISE
In order to achieve greater core expertise in highly specialized areas of law, our law firm practice is concentrated in five related areas of law.  Our practice areas menu appears at the top of every page in this website.   Please explore each area to see how we can help you find a legal strategy or solution.  We have extensive experience handling commercial litigation, business law, foreclosure law, bankruptcy law and collection and asset recovery.  We are equipped to handle all phases of litigation in state, federal and bankruptcy courts, including discovery, motions, trial and appeals. We have extensive experience handling business matters, negotiating settlements and handling debt workouts and mortgage modifications.   Whether your business or finances are on the way up or down, we are equally at ease providing business advice or handling bankruptcy matters.  We know the risks our clients face and the best strategies to use to protect our clients.
WE PROTECT YOUR BUSINESS, HOME & YOU
We understand how the maze of complex laws intersect and affect your business, your home, and you.  Here is a short summary of our main practice areas (in no particular order)
•           Commercial Litigation –  All phases of civil litigation, mediation, arbitration and settlement of business and real estate disputes.
•           Bankruptcy Law – Chapter 13 repayment plans, Chapter 7 liquidations and Chapter 11 reorganizations.  Litigation with trustees, debtors and creditors (preferential transfers, fraudulent conveyances, discharge and dischargeability, etc.).  General debt assistance and creditor negotiations and workouts(i.e., mortgages, personal and business loans, taxes, credit cards, medical, bills, etc.).
•           Business Law – Business advice, transactions and agreements.
•           Foreclosure Litigation & Solutions – Defense and prosecution, loan modification and workouts, forbearance agreements, and refinancing.
•           Debtor-Creditor Law – Debts ranging from $25,000 all the way through multi-million dollar debts, asset/collateral recovery and seizure, and enforcement of judgments.  Workout and negotiations.
QUALITY MATTERS
We know you have high expectations and we aim to exceed them. Our firm's philosophy is simple: provide personal attention, quality and value for clients. Reasonable fees are important and  quality is everything. To us, value means offering reasonable prices without sacrificing our commitment to excellence. We can do this because we are not saddled with a high overhead. We aim to meet your goals affordably, and we will always treat you with dignity and respect. It is our sincere hope that we will develop a long-term client-relationship every time we are fortunate enough to get the chance.
Whether you're an individual or a large company, selecting the right law firm is an important decision. We recognize that there are many attorneys to choose from. If you are already a client, we are grateful for the opportunity to represent you.   If you are seeking new counsel, we appreciate that you are taking the time to learn more about how we can assist you. We hope to show you that we are special.
At Lanin Law P.C., we are especially concerned with maintaining the high integrity and reputation of the firm. Most of our business originates from referrals of satisfied clients and other law firms who trust our ability to get the job done. We strive to develop long term relationships by always committing to do quality work.   Some of our business and litigation clients are long-term clients that we have represented for more than a decade in many different matters.  We take pride in our work.
We emphasize personal attention and quality service with a unique, cost-effective approach.  Unlike other firms, we have no minimum billing requirements for attorneys or paralegals, so you will never have to worry about secret firm billing quotas. We work for you. Not for a management committee.
We also strive to create a happy and peaceful office environment for our staff and clients.  Quality of life matters to us.  Many larger firms have a toxic environment filled with unhappy lawyers who feel stressed, overworked and stuck. We believe that a firm should focus on building long term relationships, not only with clients, but with its staff. We believe that life and work must be balanced and in the end that will lead to more clients and better client relations, not less.
Our firm is also equipped to handle very complex litigation in a more personal and efficient manner than the larger firms. We have big firm experience without the headaches or overhead of a big firm. We achieve results that matter. We know that results have little value if your law firm charges a ridiculous fee or overbills you. We are often shocked to hear about other firms that have charged clients double or triple what we would have charged over the course of a case or legal matter. We try to use business and common sense in our approach to work within a client's budget. Our hourly rates are extremely competitive and we offer alternative flat fee billing for some of our services. Every matter we handle starts and concludes with only one thing in mind. Meeting your goals quickly and affordably. If you have any legal concerns, please call or e-mail us to set up a free telephone consultation. We look forward to including you among our many satisfied clients.